eBIS signifies "electronic soil information system" and is a further development of the predecessor system bBIS (Federal Soil Information System) of the German Federal Environment Agency (UBA).
eBIS was created from requirements that the predecessor system could not meet:
Query results quickly and correctly,
Integrated correction process support,
Cross-structure queries with complex conditions and simple, elegant user interface,
True multi-user capability,
XML import and export in open and documented, soil-based exchange formats.
For this purpose, a web application was developed and filled with the quality-assured data of the legacy system. The query tool provided by the legacy system, however, was not designed for the data volume and the data was not available in the specific contexts expected by the new system, it yielded no results. For this, ENDA developed a special tool to manually extract and convert the data into a soil-scientific table.
BGR Conversion Procedures
BGR (Federal Institute for Geosciences and Natural Resources) assigned ENDA with the creation of a system for the exchange of soil quality data between federal states authorities and UBA. Central requirement was ease of use and robustness of the application. For that purpose an open and well documented, pedological XML schema (core schema) "Bodenschutz 1.0" has been developed that represents an extract from eBIS XML Austauschformat V3.0 and is compatible to it.
In parallel, a structural twin Access template (.accdb) and accompanying tools have been created that provide the capability to automatically transfer data from the databases of the states authorities to the eBIS database.
The system was tested in co-operation with the soil protection authorities of two federal states and the data extraction module was adjusted to the specific conditions. It is designed in such a sober and transparent way that it pricipally can be used by all federal states soil protection authorities.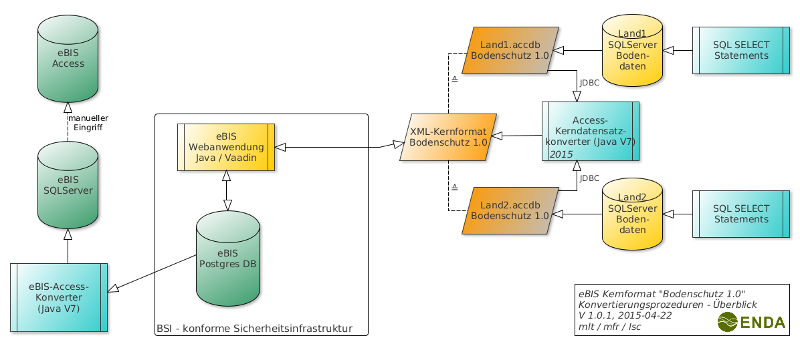 Currently eBIS contains approx. 2,000,000 records and works performantly